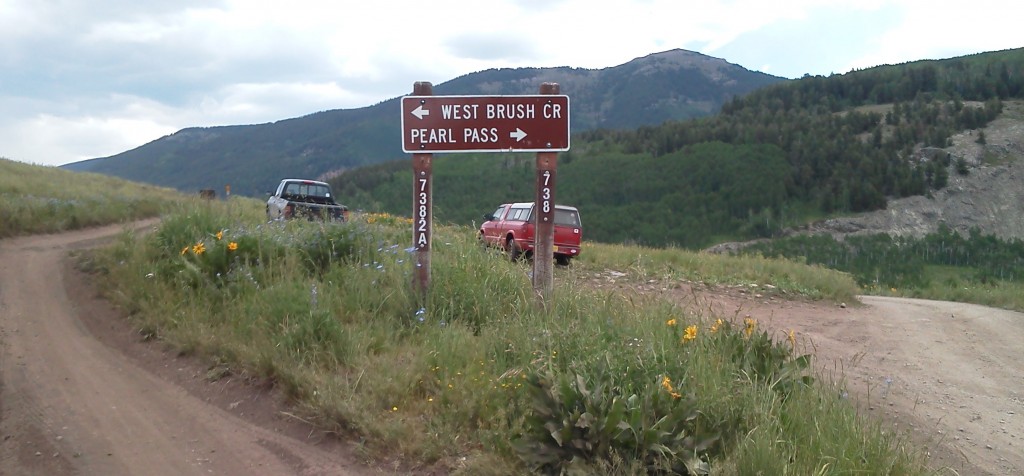 One of the more quiet and peaceful adventures in our zone, the West Brush Creek and Pearl Pass Roads trails provide hours of quality Jeeping.  Starting only a few miles out of the Town of Crested Butte, Colorado the pavement ends at the private airport and neighborhood Buckhorn Ranch.  Motoring on the dirt road, it is important to keep an eye out for bicyclists, cows and nice old friendly ranchers and their wiry dogs.  A few miles back you come to a sign and turn-off as shown on the photo.  West Brush Creek Road is to the left.  Start here and take the next left about a mile past these signs for a dead-end scenic overlook.  This is a great spot to walk out to the ridge and take a few photos.  The gate keeps vehicles from continuing into the wilderness area.  So turn around and continue North or left on the West Brush Creek Road.  It is recommended to turn on the 4WD in the high setting until you reach the flats towards the end of the trip.  This will aid you as you cross the creek and gain in elevation and other hazards.  There is a large mud hole towards the top 1/3 of the trail.  I tell people to take it on the left and stay out of the large potholes.  Once you come to the end of the road, stop and let the vehicle cool down and don't forget to smell the roses!  This trail provides access to an amazingly beautiful overlook underneath the Teocalli Mountain, so get out and take some photos.
After a break, turn around back to the turn off in the photo.  Take a left onto Pearl Pass Road and go slow as soon you will be on an overhang with no room to turn around.  This section mandates concentration, focus and a cool head.  Luckily it doesn't last long and after a deep (at times) creek crossing you're cruising again.  This section is a scenic stretch of beaver ponds, fishing holes and world class single-track trails.
To keep our customers and Jeeps safe, we allow customers up until the third creek crossing.  This keeps it simple, the first two creeks are ok to cross if the water levels are low and you have our permission at the time of pickup.  This way we all have the current trail conditions to help make better decisions and route finding.  In no way are our Jeeps to attempt to cross the third creek!
All of our renters are given a map, detailed instructions and current trail conditions to best serve our customers and keep everyone safe.